…to you! That last series of posts was pretty negative, so I wanted to share a more positive experience so you won't think I'm a total bitch. Just a partial one. When provoked.
On New Year's Eve, Richard and I found our way to an Irish pub in Berkeley for some live music. Three bands I'd never heard of were playing, but it sounded like a good bet for good time.
The music turned out to be really good, the drinks were not too expensive, and I got to eat some fish 'n chips doused in vinegar. So it was pretty great.
I was really enjoying the atmosphere, and everyone just seemed so… happy. People were making room for eachother at the bar, helping a stranger get a drink order in, and generally grooving on some great music. For maybe the first time, I felt like I really belonged here in the Bay Area, that we were all in this together.
I didn't even have room to judge anyone for the way they were dressed or the way they were acting. I was all, "Tiny festive hat party? Awesome! Why wasn't I invited?" and "Old lady with extremely skinny jeans? You are fit and fabulous!" and "Ramones t-shirt tucked into your jeans guy? Hardcore!" To the really loud and exuberant lady talking non-stop, I just thought, "Hey! You're havin' a good time. You seem like you're oblivious to most people and that you could have a good time anywhere. Keep on keepin' on."
It was… odd. And great. I mean, usually my mind is full of judgment, and it was fascinatingly freeing to have warm wishes in my heart for everyone I saw. And when they turned the TV on for the final countdown (BA DU DUN DUN, BA DA DUN DUN DUN), and we all started singing Auld Lang Syne with the band, I couldn't have been happier.
I hope your 2013 is fabulous and freeing, and know that I love you.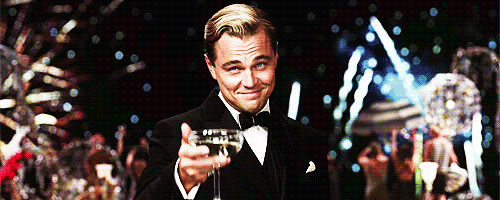 Probably.
Unless you're kind of a dick. Or you're Scandinavian Designs.
P.S.
One of the bands was Tender Mercies, started by two of the Counting Crows. They had a great alt-country-rock sound. (Safe & Sound)
The headliner was Chuck Prophet and he. Was. Amazing (that was him up there in that video). He has a whole album about San Francisco so it was doubly awesome. He's all Bob Dylan meets some old punk bands that I'm not cool enough to know, but sounds maybe like The Shins and Andrew Bird and a lot of goodness (Play that Song Again, I Felt Like Jesus, You Did (Bomp Shooby Dooby Bomp))