When last we left off, the hubby and I were resting up for our first big day of hiking in Yosemite. So…
Saturday
We woke up bright-eyed and bushy-tailed, ready for a day of good ol' fashioned outdoorsy adventure. Serious nature and shit. We loaded up on the predictably sad, yet somehow overpriced hotel breakfast, packed up our packs and hit the road. We started back in the Yosemite Valley, and asked for recommendations on hikes from the nice ladies at the visitor's center. We wanted something challenging, but not, like, too challenging, cuz…look at me. Look at this. Not hardcore.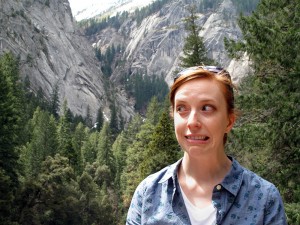 So we decided on a short but 'strenuous' hike to start, the Vernal Fall footbridge (1.6 miles with 400 ft elevation) with the option to continue on all the way up to Vernal Fall (another 0.8 miles and another 600 ft elevation). Guess who continued all the way up? Not this guy. Look again at that face.
It was a nice hike, all in all, lots of great views and the footbridge was real pretty. Less misty that the last waterfall we met, which was appreciated. It's the elevation that does me in, especially when there aren't any flat landings on the way up. But at least we stopped short of the "steep granite stairway of over 600 steps." Because in my opinion, there is NO PLACE for stairs in hiking. What is this, Rocky? No thanks.
Anyway here are some nice vistas and whatnot.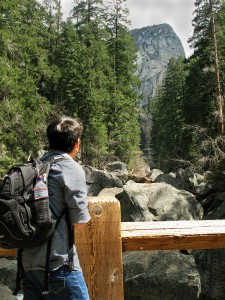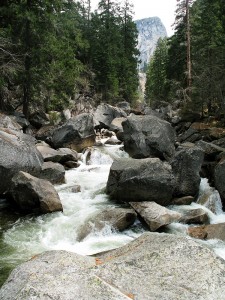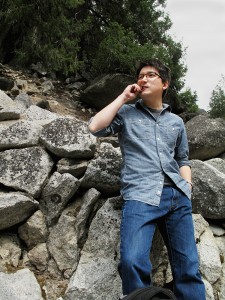 That's like a damn Ralph Lauren ad right there. Also I paid this ground squirrel to pose for us. Aren't they weird looking? There are a bunch by the bay where we live, and the first time we saw them we were all, "What? Are those…what? They're kind of like, but no. I mean, what?"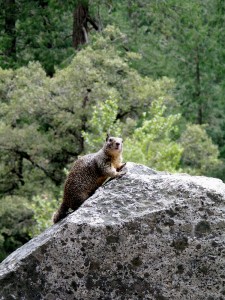 On our way up to Vernal Fall, we saw a sign that pointed to a sneaky trail that connected with our second destination, Mirror Lake (2 miles, no elevation), a trail marked 'easy.' It was a cute bit of trail that was significantly more populated, but the lake area was much quieter. We had lunch, then decided to try continuing around the lake for the extra 3 miles rather than scooting on back.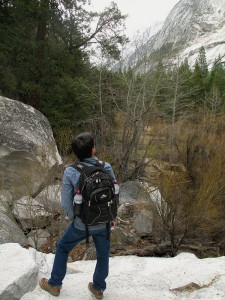 It was a really nice hike past the lake, with very few people, until it started sprinkling. And then drizzling. And then proper raining, with some classic bursts of thunder that rolled right around all those mountains. Note: it does not storm here in the Bay Area. It rains, but we haven't once heard thunder or seen lighting since we lived in Indiana.
We kept going for awhile, but then decided to head back since it was really coming down. And then I noticed that my arms felt a little wet, despite my trusty Columbia jacket shell. And then, at approximately the same time, we both noticed that the waterproofing on our shoes gave way. We made it to a shuttle stop (they conveniently have them all around the valley), but it was as crowded as a herd of ground squirrels in…some sort of crowded scenario, and the first shuttle that passed kept right on going because it was full. So we walked back to where we parked, and by the time we got there I was not such a happy camper (not unlike those campers at risk of catching Hantavirus in Yosemite). My feet were soaked, my pants were waterlogged and weighing me down, and the rain made it through all four layers on my upper half.
The car ride back to the hotel was…soggy. Imagine a large, slobbery dog gently licking you for an hour, and you just can't get him to stop, and then you do get him to stop but you have to sit in your moist, unpleasantly warm and yet somehow chilly clothes for another hour while traffic is backlogged and DEAR GOD WHY AREN'T WE MOVING??
Finally we get back to the hotel when something really unforeseen happens.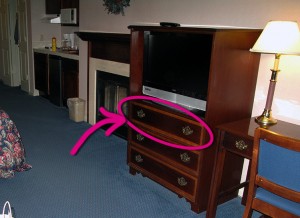 But that's in another post.
We changed, then decided to have dinner at The Ahwahnee again because why not? On the way we grabbed a few more pics as the day's rain turned into a lovely, ethereal mist through the valley.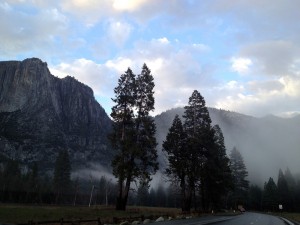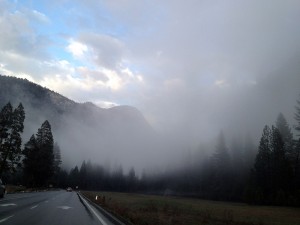 It was real purty. Also, I want to note for my fellow Midwesterners that there were some deer all up ins the valley, and lots of people were stopping their cars and gathering around for some ogling and photo ops. I mean, they were regular old, American deer. I've had those in my backyard, dudes. Move along.
And the rest of the evening was pretty uneventful.
Sunday
Sunday morning we were out pretty early, and decided to skip sad hotel breakfast figuring we'd find something on the way down. We crossed a road that was temporarily redirected due to THE MOUNTAIN COLLAPSING AND COVERING THE ROAD, which was a fun surprise. Also? We found a nice little town but everything happened to be closed because it was Easter. Oh right.
But we made it back eventually, and have some good photos and only a few scars to remember the trip by. Overall, pretty awesome, Yosemite. Well done you.
*Most photos by Richard. Who's the bomb.