Well it's been one year since our wedding. How about them caramel apples?
OH MY GOD it feels like SO LONG.
Jk, it's shocking, really, that it was a full year ago.
Less shocking, perhaps–if you know me, is that I had nearly as much fun planning the wedding as I did actually being at it (must be that INTJ planning and organizing drive). And I had a long time to plan that mother: we got engaged in July or August of 2010 (hard to tell), and the wedding was in October of 2012. During this long planning process, we naturally had a few ideas that didn't quite make it onto the schedule–for budgetary or c'mon-stop-joking-around reasons, so I thought on this anniversary I'd list a few items that might have been.
Special guest appearance by Antoine Dodson
I was very much a fan of Double Rainbow, but my world was totally rocked by shmoyoho's auto-tune masterpiece featuring the words of Antoine Dodson. Seriously I couldn't get over it. Mind you this was, in my recollection, right at the early adopter stage of Internet video remixes and general weirdness and wonder, which I have now built part of my career on finding and spreading to the masses.
DEAR GOD that video now has 117 MILLION VIEWS.
He was unavailable for the date.
Rick-rolling the playlist
We probably should have gone ahead and added this to the playlist, but it's the kind of joke that would have out-lived its humor very quickly. You know, you click on a link that pretends to be one thing, then the song starts and you laugh and watch a few seconds, then you move on with your life. Imagine a whole dance floor awkwardly standing around waiting for this joke to end.
I, of course, would have enjoyed it all the way through because I LOVE RICK ASTLEY and wore out at least one of his tapes in the early '90s. Ginger genius.
Live peacocks
Just struttin' around, generally not givin' a fuck. Peacocks are elegant as shit. One time I saw an all-white peacock at a zoo, he was KING OF THE poop shed he was standing on.
Live band
On a more serious note, we did debate having  a live band for the reception but in the end the logistics were too complicated and we were too cheap. Plus I'm very proud of my iPod playlists, and honestly am I really about to give up control of music selection to someone else on such an important day?
Ducky pool
My favorite thing at any fair or carnival was when they had the little kiddie pool or tiny moat full of rubber duckies, and you'd pick one and see what number was on the bottom, and that determined the epicness of the prize you could pick out. The star was the most epic of all.
We had plenty of cool fountains we could have used for duckies, but it didn't seem to fit into our theme really. Plus someone would likely have to man the prize table, and that's no fun.
Choreographed dance -or- breakout musical number
While I truly love the surprise and joy caused by unexpected dance or musical numbers, I didn't want to put that kind of pressure on our bridal party. Low-pressure party was our goal.
More to the point–none of us are particularly talented in the musical theater arena (barring a stirring one/two performances in Godspell by the bride, maid of honor and honorary maid of honor), and I feel like this only works when it's kind of exceptional. Otherwise it's cute for maybe a minute, then we circle back around to awkward please-let-this-end territory.
Anyway two favorites from more talented crews:
Cupcakes
This one came the closest to really happening. Instead of a cake, I wanted to have a couple batches of fall-themed cupcakes. But I thought I'd save money by baking some of them myself, and by enlisting my maid of honor, mom, sister-in-law and mother-in-law, and another bridesmaid. In the end it seemed to add a layer of stress that didn't need to be there, and when I tasted our dessert at the caterer's (CARAMEL APPLE BAR) I was all, "Nope. This is all we need. Done-zo."
I still have a great list of cupcake recipes, most of which are taste-tested towards the bottom of this Pinterest board.
…
In the end, I'm perfectly happy that none of these happened. Our wedding had exactly the stuff that we wanted, none of the stuff we didn't need, was totally in control (by meeee and the groom), seemingly low-stress, and had a good balance of sentimentality and fun. At least it looked that way from where I was sitting.
My only regret was not mingling enough, so if you were there and we didn't get to chat: I'm sorry! I was so glad you came. I noticed. It made me very happy.
P.S.
I still love thinking of (crazy) wedding ideas, so don't tell me anything about your upcoming wedding or I might start planning it for you.
P.P.S.
Obviously the best part about the wedding was marrying the groom. Love you.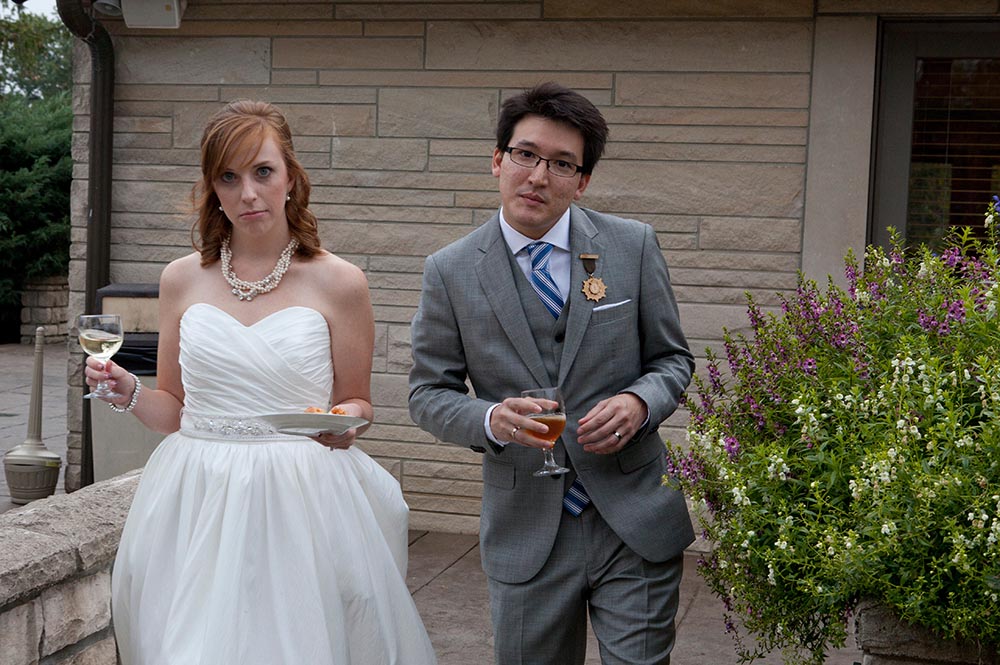 Bonus for reading all the way to the bottom:
Another very early photo, taken almost exactly six years ago, on Halloween.