Last fall we took a look at our calendars and decided that going home for both Christmas AND Thanksgiving would be a little too much for us, but we didn't want to waste the bounty of 2 full paid days off of work–so we decided to check a few spots off of our "to visit whilst living on the West Coast" list.
We mapped out a 8-day Pacific Northwest adventure over Thanksgiving week, flying into Portland then driving to Seattle, on to Vancouver for Thanksgiving itself (a popular destination for the Americanist of American holidays), and finally flying back home from Vancouver.
So here's a recap, for posterity, and for anyone considering a similar deliciously-hipster and decidedly moist trip.
Day 1: Willamette Valley, OR
On Saturday we landed in Portland, grabbed our rental car* and headed out of the city to Willamette Valley. Famous for its vineyards and Pinot Noirs. Oh, you didn't know that Oregon had a thriving wine country? Me neither.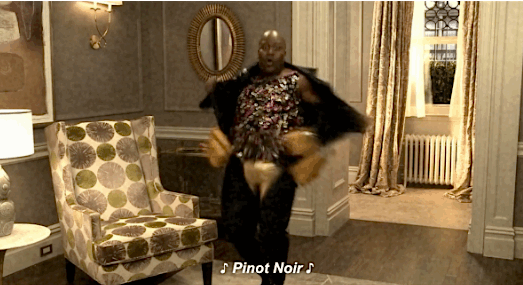 But we soon found ourselves at a winery where we my friend Amanda works, that just happened to be doing a VIP tasting event for wine futures. WTF are wine futures you ask? Or WTF were you doing at a wine futures event, you may ask, if you already know what wine futures are and therefore that we had no business being there. Uh but as I understand it, wine futures are basically future… wine. At an event like this, you taste some wine that will not actually be ready until next year. A nice winery worker, or maybe the actual winemaker, or indeed the person who picked the grapes will siphon you a taste straight from the barrel, tell you all about this wine and what it's expected to do in the next year as it finishes getting its official "I am totally wine now" badge. Then you sip it, nod knowingly, and decide whether you want to put that almost-wine on layaway and pick it up next year. You're basically betting that this pre-wine will be excellent wine next year, and by buying it in advance you're probably getting a great deal. If it turns out good. If not, then you've got a lot of shitty wine to foist on your frenemies next year.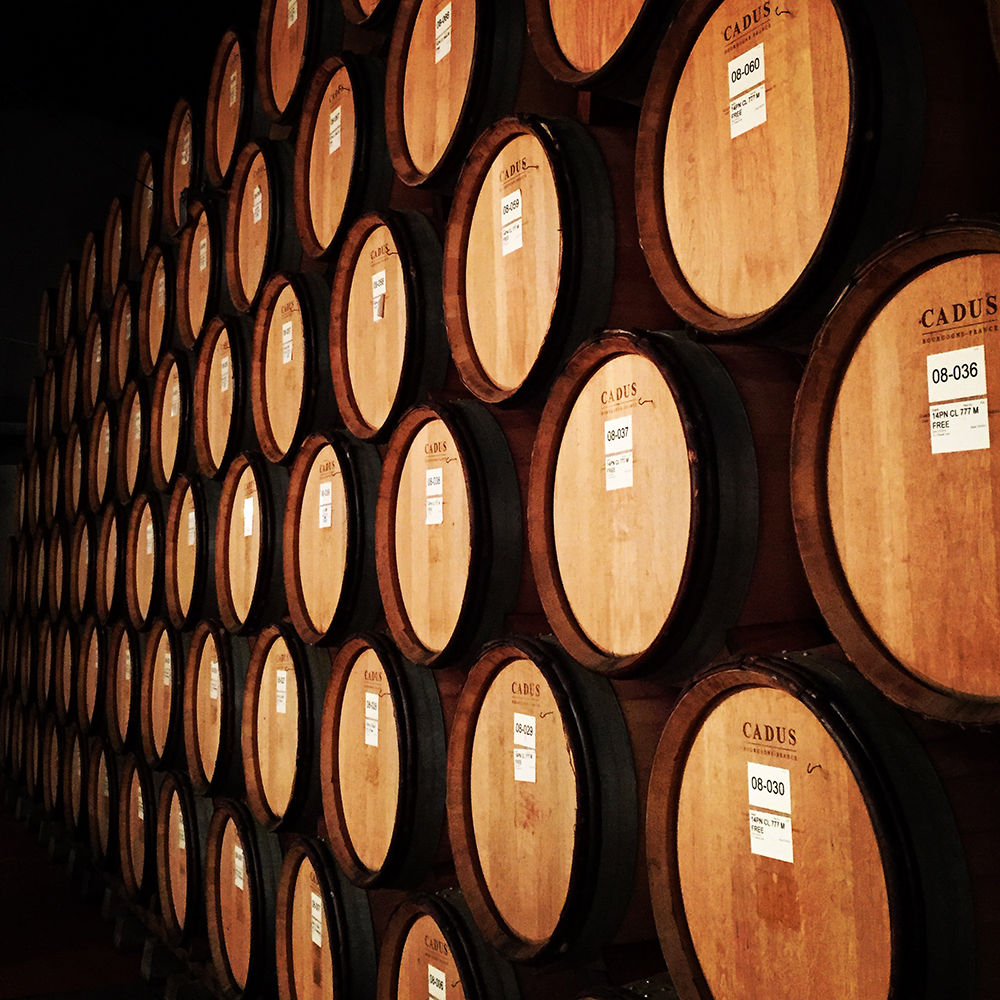 Just go watch Trading Places and replace orange juice with wine, okay?
Anyway, we did our best to blend into the VIP crowd. Mostly it was fun to see Amanda, meet her bf, and see where they both worked. Afterward, we had dinner, went back to Amanda's and played Cards Against Humanity into the night.
Days 2 & 3: Portland Oregon
Our kind hosts had another day working a wine futures event, so they pointed us in the direction of downtown McMinnville and we grabbed an early breakfast at Community Plate. McMinnville is a charming-as-hell town which reminded us, as most charming towns do, of home. It was voted 2nd best Main Street in America by Parade magazine in 2014. So yeah, it was pretty cute.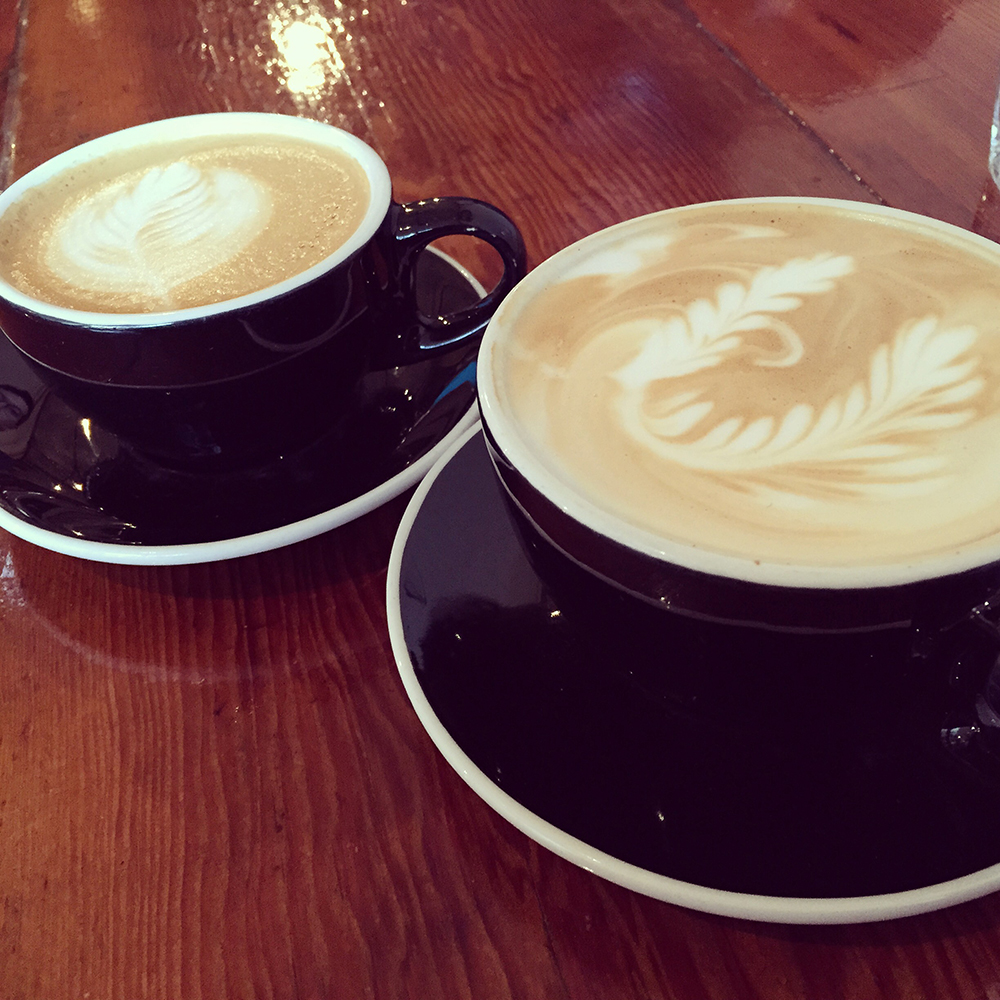 We bummed around for a bit, bought some souvenirs and even more coffee, then hit the road back to Portland. We checked into the tres hip Ace Hotel in the rain and were… confused. The room was small and sparse, the toilet was separated from the bedroom by the mere wisp of a sliding plywood door, and most disconcerting was the shower. Which stood in a corner of the room. Enclosed in glass.
I mean, I'm not a superprude, and I was only sharing the room with, you know, my husband, but still. A lady likes to keep an air of mystery about her shampooing routine or how ridiculous she looks while trying to shave her legs in a narrow glass telephone booth. And I'd rather the choice to be totally nude and exposed be my own, not forced on me by dumb room design.
We tried to take a nap but the bed was pretty crappy, and our neighbors were noisy, so we eventually gave up. Luckily our friend Paul was ready to swoop in and show us around town, and we soothed our cranky souls at the uber well-stocked Bailey's Taproom. Pro tip: Check into your Untapp'd app (for the first time in maybe a year, if you're like me), and see your incredible beer reviews up on the monitors.
Then we headed to Imperial for dinner, which we heard had a former Top Cheftestant as the executive chef (Doug Adams, and ok it's owned by James Beard-winner Vitaly Paley so that probably would have been a better lead in but WHAT DO I KNOW ABOUT FOOD OR WINE FUTURES). Anyway it was excellent. I had some kind of fried chicken that was served on a tiny skillet on top of a bit of wood and had honey in a vial to administer just before eating. Hipster nonsense but delightfully so.
After a full night of shitty sleep and taking a shower in the glass case of emotion, I'd pretty much had it with the Ace Hotel. The whole business felt like a hostel actually, with some of the rooms retrofitted with ensuite bathrooms, which I actually would have been ok with if it had been billed as a hostel. And if we'd been billed hostel prices. But I think the room was over $200/night when we booked it, so the price did not at all justify the crappy experience.
We decided to check out a day early (luckily they were able to refund us), and took refuge in Hotel Monaco nearby. It was the best. Wackadoodle interior design but so comfortable, and like most Kimpton hotels there was a free happy hour with wine and beer, and in this case hot apple cider just whenever. Paul joined us again and we walked around the city for the day.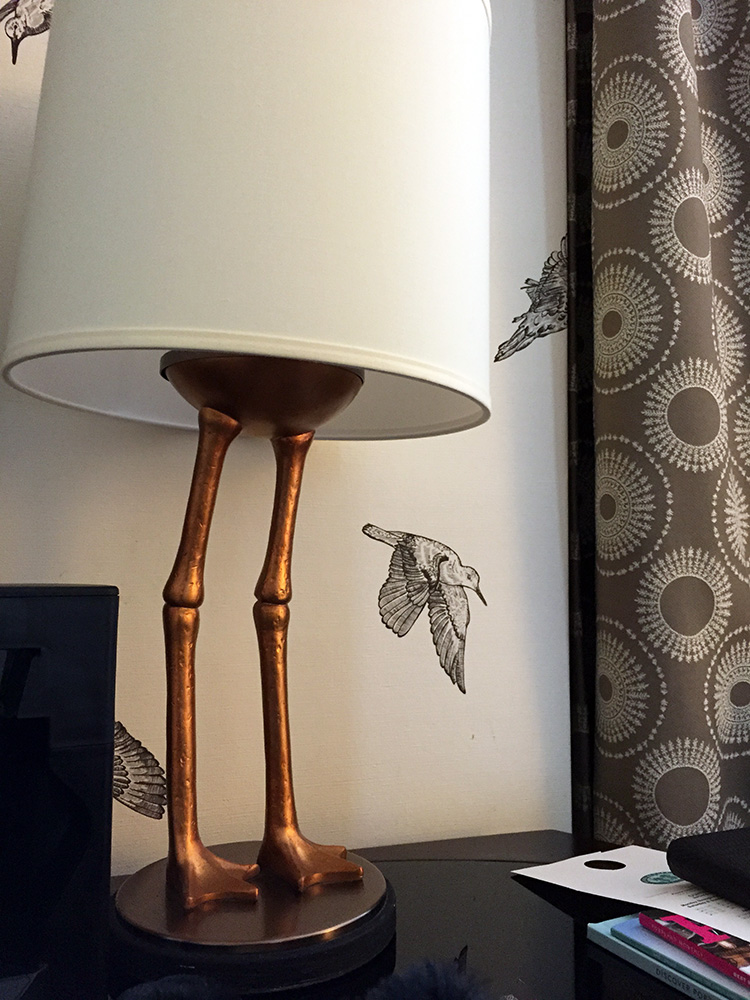 We visited the delightfully-kitschy, antler-filled lodge known as Deschutes Brewery for lunch, which was pretty good. I think. I don't really remember. There was something interesting about the bathrooms that I also don't remember, probably because beer. Take my word for it and check that something out if you're ever there. And let me know what it was?
We made a mandatory stop at Powells bookstore and spent an enjoyable hour or two browsing the massive collections, got some books to add to our luggage, then moseyed back to the hotel. Paul left us to our own devices for dinner which, on account of a few short and/or crappy nights' sleep, ended up being room service. Just couldn't bring ourselves to leave the warm and comfy bed. #sorrynotsorry.
It worked though, and Tuesday morning we felt almost totally human again. We took some locals' advice and skipped the famous Voodoo Doughnuts, instead picking out a half-dozen for the road from Blue Star Donuts. Absolutely a good choice, they were interestingly flavored and delicious. I would tell you what those flavors were, but I ate them with nary a photo as proof. We packed ourselves and our donuts into the car**, said goodbye to Portland, and punched "Seattle, bitch!" into the GPS.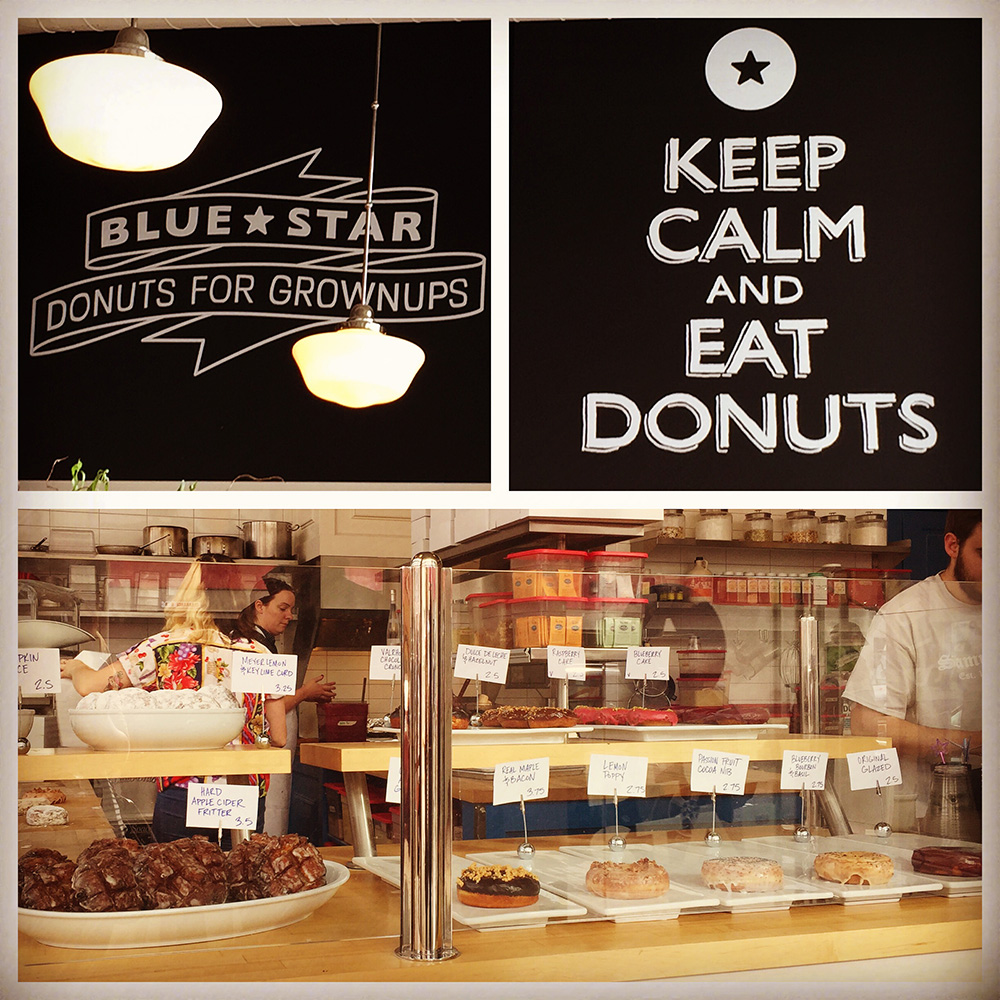 *When we walked up to the lady distributing cars at the rental place and told her our name, she was like, "Oh! You're going to Canada, right? I've got a special one for you."
Both Richard and I wondered what that could mean; I imagined a real rugged 4-wheel drive, all-terrain SUV fit for the rough and wild terrain of Canada. I didn't think I'd have the heart to tell the lady that we were not planning on going anywhere rough and wild, but then I started wondering whether, now that we would have the proper equipment, maybe we should go off-roading to find some moose or bears or yeti or whatever is hiding out in Canada's magical wilderness.
Meanwhile Richard pictured an efficient electric vehicle or hybrid, perfect for blending in with the environmentally-conscious citizens of Canada.
The car lady lead us to our very special Car Just for Canada Visitors and we were both surprised to stop abruptly in front of a Mazda minivan. Just, what? Did she think we were going to pick up a Washingtonian family desperate to escape the dreary weather and deposit them in Canada? Was it for all the prescription drugs and/or pure uncut maple syrup we were likely to pick up there?
"This van is from Canada and wants to go back!" said the lady. We shrugged, said, "Alright then," and climbed in. I mean, who could say no to a polite Canadian minivan just trying to make his way home?
**I was going to say minivan here, but didn't want to ruin the punchline of the first asterisk in case you're one of those people who reads the whole thing and then comes back to the footnotes at the end. Or one of those people who never reads the footnotes. In which case you won't be reading this one either. Why am I even talking to you? Unless you're someone who sometimes reads footnotes, and you saw how long the first one was and took a hard pass, but saw this one wasn't so long so you're reading it without having read the first one. And now you feel like a dick.