I accidentally started a rant about podcast recommendations to two unsuspecting friends on Twitter and realized I have a lot of thoughts and feelings about podcasts. And that I should stop shouting at them and make a blog post instead. So here we are!
Since working full-time in the Bay Area for the past 2.5 years, I've had a 45 to 70 minute commute two times a day. That's a lot of time to kill (most of it on public transit), and while I love music for zoning out, I've come to rely on podcasts to get me through my journey. Lonely wife note: They're also great to listen to while doing stuff around the house alone while your husband is traveling.  Lonely slightly-crazed consultant's wife note: Especially when he travels four days a week. Every week. For a year and a half. *In a whisper* Sometimes it feels like my favorite podcasters are my closest friends.
But anyway. Here are my favorites right now! I will skip the most well-known mainstays of my rotation: Wait Wait… Don't Tell Me, This American Life, and Serial.
Any to add? I've tried out quite a few others, if you want to discuss any not on this list please share!
And if you're looking for a podcast co-host or would like to give money to someone to make a podcast… I'll be here. Saying charmingly-interesting and tragically-unrecorded things. To myself.

The Flop House
Humor, movies, 1-1.5 hours per episode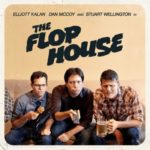 My number one, listen at any time for a good time recommendation. Three dudes watch bad movies and talk about them. Two of the dudes are current/past writers for The Daily Show, and all three are delightfully, randomly, nerdily hilarious. You don't need to have watched the film to enjoy their recaps, but it might be easier to start with one you've seen or at least heard of. Honestly the discussion of the movie is a small part of the show, most of the time the hosts (Dan McCoy, Elliot Kalan, and Stuart Wellington) get sidetracked with tangents about what the plot of a Ziggy movie would be, or which one of them is which Teenage Mutant Ninja Turtle, or, more often than not, what's going on right now in Scrooge McDuck's Duckburg.
My favorite part is how easily they crack up—they seem truly delighted with eachother. Too often, when you get a few comedians together (especially dudes), they seem more interested in proving that they're the funniest person in the room than actually enjoying themselves.
I've got my husband and brother-in-law hooked, I think, and now get great joy when we go off on our own Words That Sound Like Other WordsTM riff.
Slumber Party with Alie and Georgia
Humor, 1 hour per episode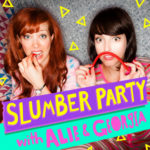 Two best friends chat with comedians and other funny people in their pajamas. In a pillow fort. You may know Alie Ward and Georgia Hardstark from appearances on Cooking Channel TV shows Tripping Out with Alie and Georgia and Unique Sweets, YouTube shows Classy Ladies with Alie and Georgia, Drinks with Alie and Georgia (where you can learn how to make mixed beverages like a McNuggetini), or—if you're like me—on one of if not the best segments of Drunk History.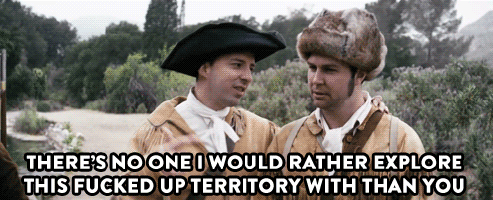 They talk about stuff, and things, science, and ghosts, snacks, stupid people, cute things on Instagram, depression, birthdayyyyys, and they cuss a lot. Basically I love them and they're my surrogate best friends when mine are too far away and I'm too stupid to call.
The Mortified Podcast
Humor, nostalgia, 20-30 minutes per episode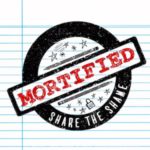 I may have already mentioned my love for (or dragged you to) Mortified Live shows. Their podcast is the live show boiled down into easily-digestible, 1- or 2-story episodes, with all of the humor, embarrassment, and beauty that comes when grown ups read their childhood diaries in front of a crowd of strangers. Almost all of the podcasts are recorded at live shows around the world and offer a deliciously-varied peek at the growing pains of youths from very different backgrounds and, more wonderfully, the commonalities we all dealt with.
Start with the recent three-part series on Forbidden Crushes: the vice principal who ended up serenading the reader in front of a school assembly, the janitor who might have been a male model or a drug kingpin on the side, and the talented, popular drama kid who was perfect in every way except her gender.
My Favorite Murder
Humor, murrrrderrrrr, 45 minutes-1 hour 15 per episode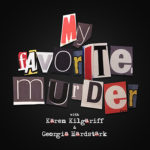 Georgia Hardstark (see above) and Karen Kilgariff indulge their dark love of famous murderers, serial killers, and generally horrible things. But it's very funny. It's hard to make terrible stories enjoyable, but these two ladies hit the right note for me—entertaining without being disrespectful. Most of the stories they discuss are well in the past, so you're far enough removed from the horror to be ok with laughing just a little. If you've ever found yourself glued to a 48 Hours Mystery, lost for hours in well-linked serial killer articles, or really enjoyed season 1 of Serial and didn't mind the whole discussing an innocent child's death part, give it a shot!
To be honest I joined the secret My Favorite Murder Facebook group, but I had to adjust my notification settings because murderers were taking over my newsfeed. It was a murder a minute. All murders, all the time. I like knowing where to go to roll around in the horribleness of humanity but then leaving it there and getting on with my day. If you get bummed out, scrub your blinkers with some r/eyebleach. (This is also why I made a handy list of no-fail things to kick me out of a funk.)
Mystery Show
Light detective work, storytelling, 50 minutes-1 hour 20 per episode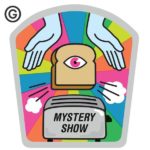 If you'd like more trivial, low-stakes fact-finding missions check out Mystery Show, where amateur sleuth Starlee Kine seeks to answer personal mysteries like: Why is Britney Spears holding my not-very-well-received book in this photo? Who owned this belt buckle I found in the gutter when I was a kid, and why does it have a mechanized toaster on it? And, one of my favorites, just how tall is Jake Gyllenhaal, really?
Starlee was a producer on This American Life, so there's solid storytelling, good structure, and fairly satisfying conclusions. She meets interesting people along the way and approaches each question with the kind of serious research it deserves, even if it's not the serious research it really needs. Fair warning: Starlee's voice isn't the easiest on the ears in my opinion, but the episodes are good if you give them a chance.
Special mentions:
The Moth Podcast
Storytelling, humor, weeping, 30 minutes-1 hour per episode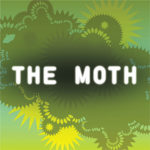 Similar to The Mortified Podcast, The Moth records their live shows from around the world and assembles them into podcasts for your enjoyment. Each show has one to a handful of stories around a loose theme, and the great majority of them are fantastic. Told by amateurs at open call Moth StorySLAMs, by professionals like Mike Birbiglia, and by well-rehearsed folks at Moth Mainstage Events, each episode can bring you to laughter or tears. Which is why I stopped listening, tbh. Too much open weeping in public. But give it a shot if you don't mind playing emotional roulette, or maybe save it until you're in the safety of your home.
Pod4Ham
HAMILTON, 10-30 minutes per episode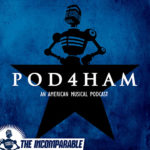 Varying groups of—experts? interested folks? knowledgeable fans?—talk about the Hamilton Original Broadway Cast Recording, one song at a time. This will probably only be interesting to Hamiltrash, although it's not particularly revealing if you've taken the deep-dive into Hamilton madness already. Maybe worth a listen if you're not sure what all the madness is about? But the episodes are short, and it's fun to listen in and maybe get a few new perspectives. Mostly I shout at the panelists, pretend that I'm part of the conversation, and have a sing-along when the episode is over.
When You Wish Upon a Podcast
Disney, 1-1.5 hours per episode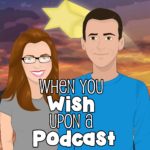 My cool friend Amanda and her brother are watching every Disney movie, in chronological order! In each episode they discuss the plot, compare the story to the book/tale it was based on (if applicable), play a themed game, talk about theme park tie-ins and choose their favorite unnamed background character. And more! They already have 18 episodes but we're only up to 1953 so there's plenty of time to catch up and watch along. Can't wait for the late '80s, only 140 or so movies to go!